WILL YOUNG'S '20 YEARS TOUR' KICKS OFF NEXT MONTH
IN CELEBRATION OF POP IDOL 20th ANNIVERSARY
+ DETAILS REVEALED OF VERY SPECIAL CHARITY CONCERT FEATURING ED SHEERAN
Will Young will kick off his 20 Years Tour next month in celebration of the 20th anniversary of his Pop Idol win.
With extra dates now added and many shows already sold-out (and very limited seats remaining at others), fans are advised to grab their tickets at the earliest opportunity if they want to catch Will live in concert this autumn via axs.com or Ticketmaster.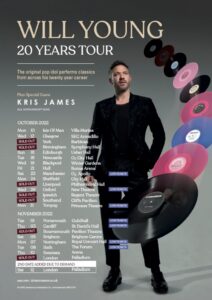 Since winning Pop Idol's first series in 2002, Will Young has gone on to become the most successful contestant to ever appear on the show, with over 10 million records sold, 8 UK Top 3 albums including his recent 2021 album Crying On The Bathroom Floor, and the No.1 best-selling single of the noughties, 'Evergreen/Anything Is Possible'.
Pop Idol was broadcast to as many as 10 million viewers when it originally aired, shooting Will to fame and rewarding him with a record deal to release his beloved UK No.1 debut album From Now On after receiving a massive 4.6 million votes from the public. The singing competition was one of the first of its kind and, with just two series, it cemented its legacy in British pop culture as well as becoming an international TV franchise.
Special guest at all shows (except the Isle Of Man) will be Kris James.
In further news, Will has just announced that he is fronting a brand-new charity initiative called Wellstock, which he describes as "very exciting". Via an initiative called One Night Only which provides unique one-off events, Will has secured the services of none other than one of the planet's biggest stars, Ed Sheeran, who will play a very special intimate show at London's Islington Union Chapel on Tuesday 11th October. The concert will raise funds and awareness for Shout (the UK's first and only free, 24/7, confidential mental health text support service, powered by Mental Health Innovations – a digital mental health charity founded with the support of The Royal Foundation of The Duke & Duchess of Cambridge.
Will explains; "Fans can donate £10 for a pair of tickets and they are chosen at random. It is a wonderful new democratic way of raising money, allowing artists to do special one-off things and raising funds for much needed causes. Shout is a text message service predominantly used by people under 25 – they help people in crisis or who just need to talk to someone knowing they are being heard and validated. Most calls are to do with anxiety, depression and often suicidal ideations. I'm very excited about Ed's gig – he will be performing for the first time at the Union Chapel, playing old songs acoustically as well as some never heard before music. Make sure you enter and donate by texting "ED" to 84903 or visiting http://foronenightonly.org/ to enter online or by post".
Will Young – new colour portrait © Joseph Sinclair 2022