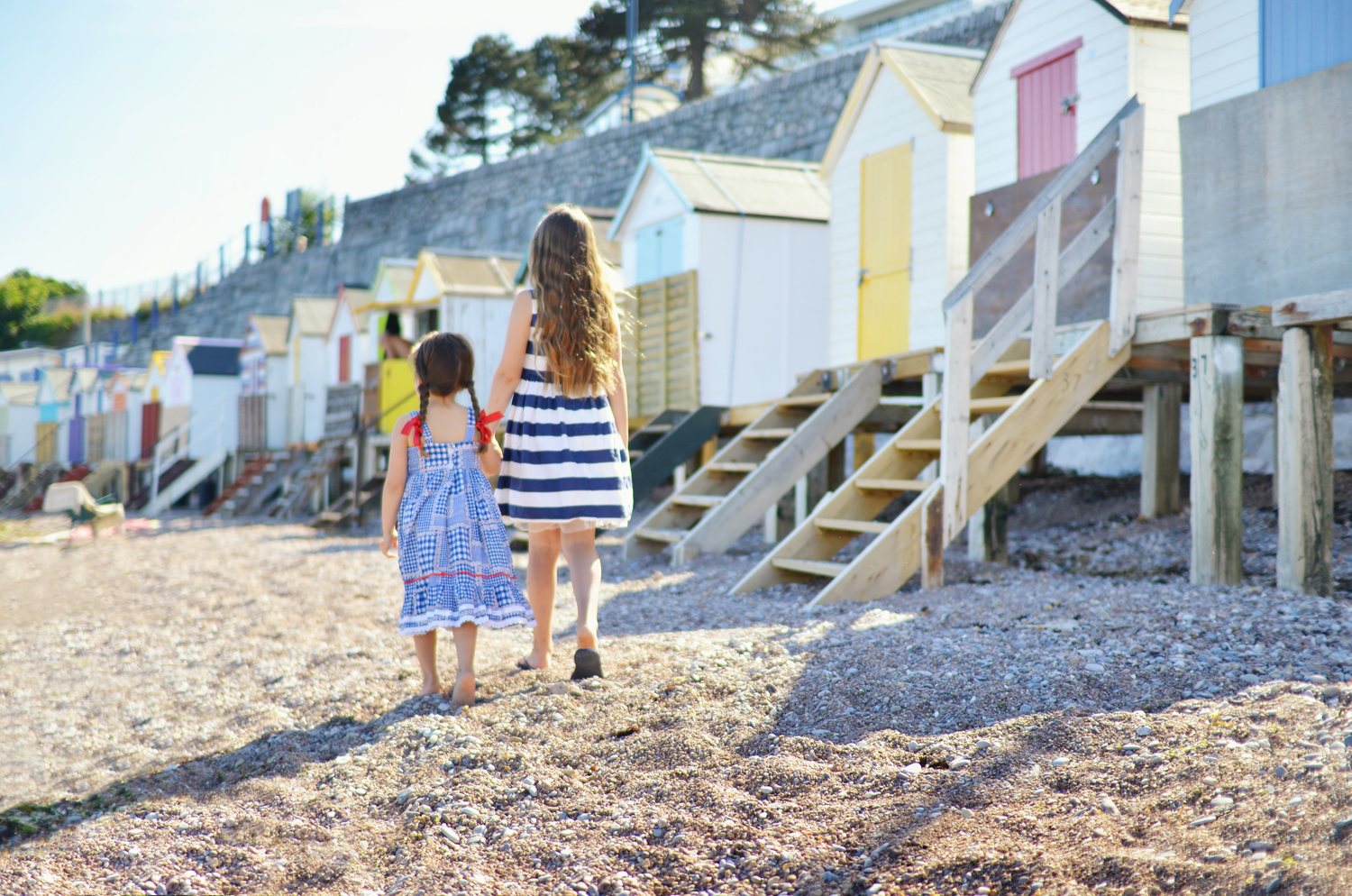 Here is a guide to some of the nicest beaches in and around the Southwest. At What's On not only is your enjoyment our goal but also to be safe with everything we have to offer – Remember to always keep your children in sight and make sure they wear a life jacket.
Beaches are great places to have fun but please take care and read the following information, here are some simple rules to keep you safe.
• Please read all of the safety signs!
• On the beach and in the water
• Observe high and low tides
• Take care of sharp objects/litter hidden in the sand
• Also slippery rocks/big drops from cliffs and harbour walls.
• Rip currents/dumping waves – they could drag you out of your depth
• Look out for Jellyfish and Weeverfish, which can sting
• Offshore winds – don't get blown out to sea
• Man-made structures like piers and groynes
• Other water users – swimmers don't mix well with powerboats and Jet Ski's!
• Children must be supervised at all times
If you see anyone else in trouble, alert the Lifeguards or call 999 or 112 and ask for the Coastguard.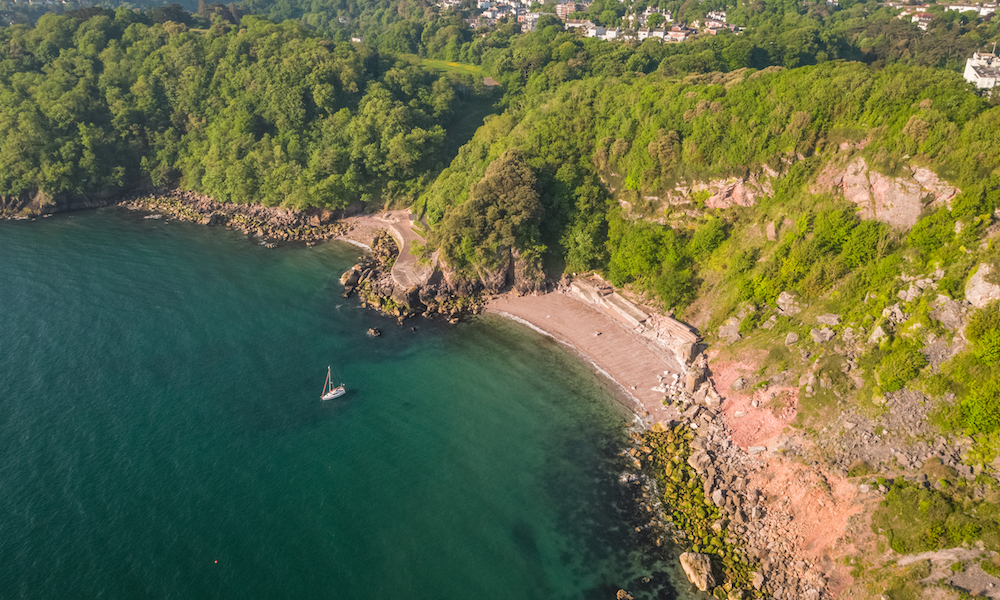 Anstey's Cove
Anstey's Cove sits between Torquay and Babbacombe. This quiet, peaceful and incredibly beautiful, small shingle beach nestles between high cliffs and a thickly wooded hillside. This is great place to come if you want to escape the crowds.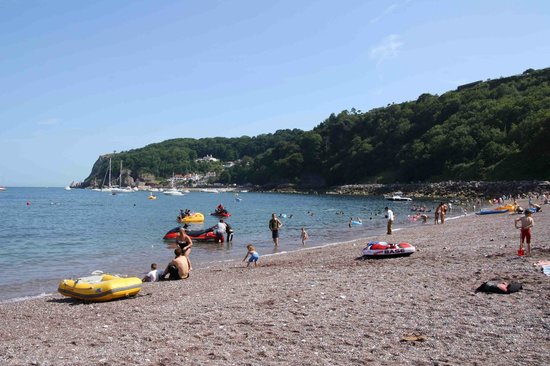 Babbacombe Beach
Babbacombe is a delightful small shingle beach set beneath the cliffs at Babbacombe Downs. An interesting place to explore with rock pools, cliffs and walks.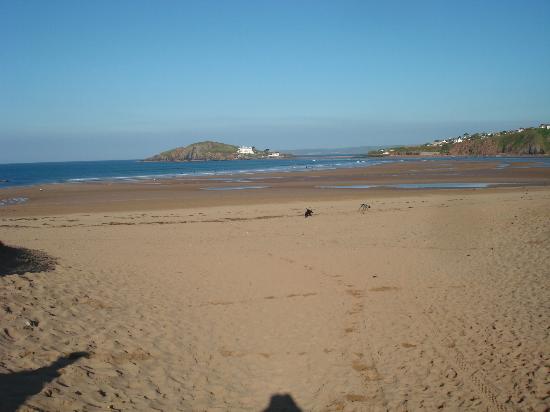 Bantham beach
Looking out onto the shallow Bigbury Bay and the iconic Burgh Island, this popular family and surfing beach is deep in the South Hams with easy access to a number of walks towards Thurlestone or South Milton Sands.  When the tide is out the beach is enormous and the pooch will be more than happy to roam around the area for hours while you soak up the seemingly never-ending panoramic views.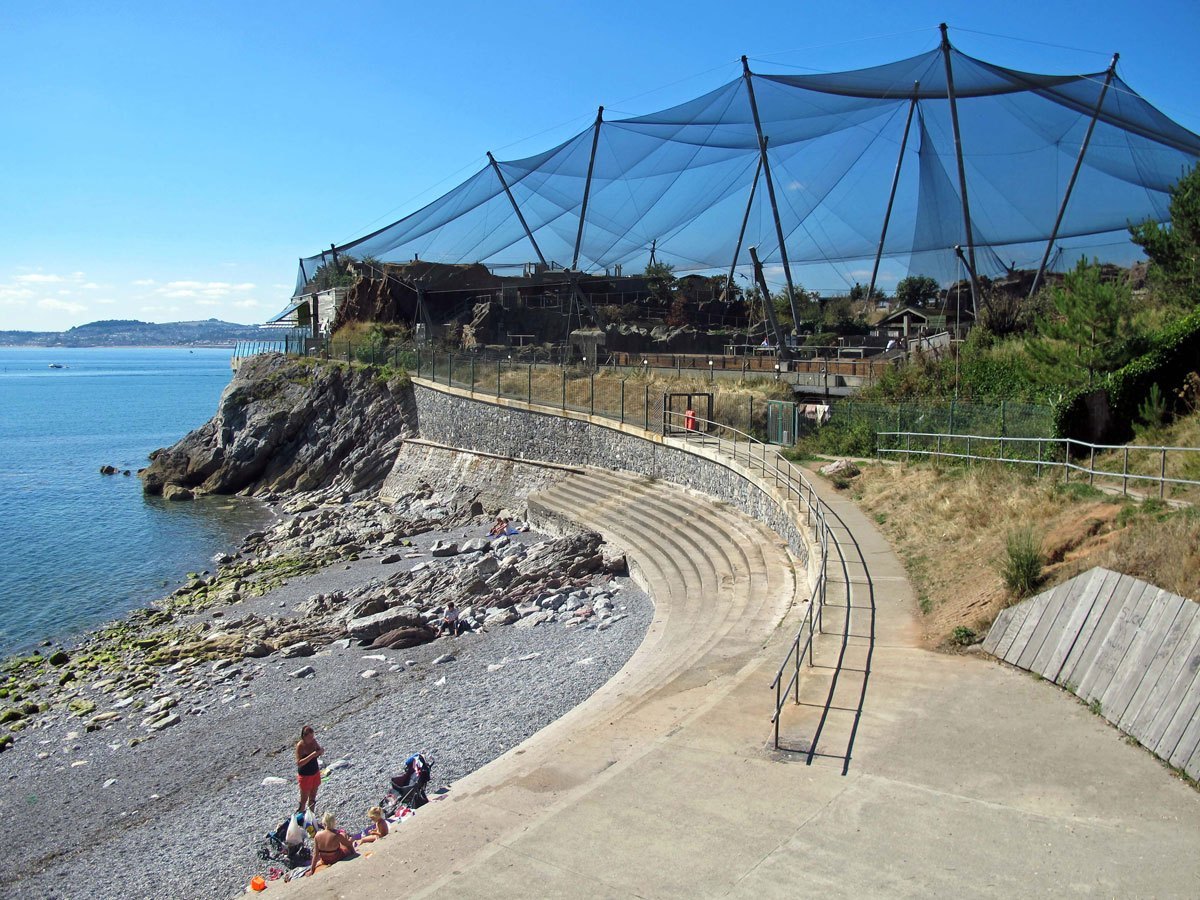 Beacon Cove
Beacon Cove is a perfect haven away from the main beach of Torquay. There is a small promenade above a tiny shingle beach and its sheltered position makes it a warm sunny spot even out of season.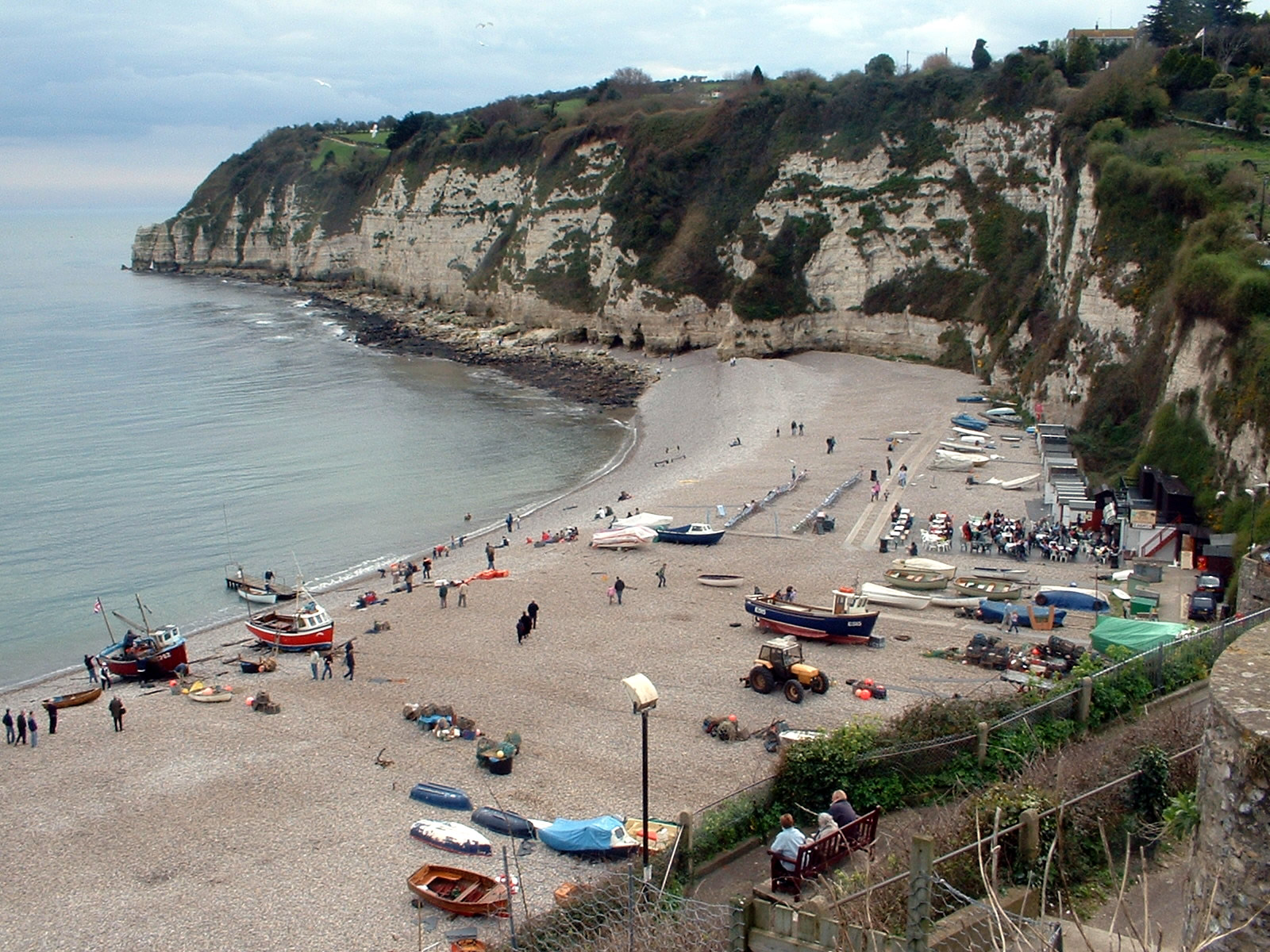 Beer Beach
At the end of the picturesque fishing village of the same name is this pebbled beach surrounded by beautiful boats and limestone cliffs. As the cliffs give you natural protection from the wind, you can be sure of a microclimate warmer than many of the other exposed beaches in the county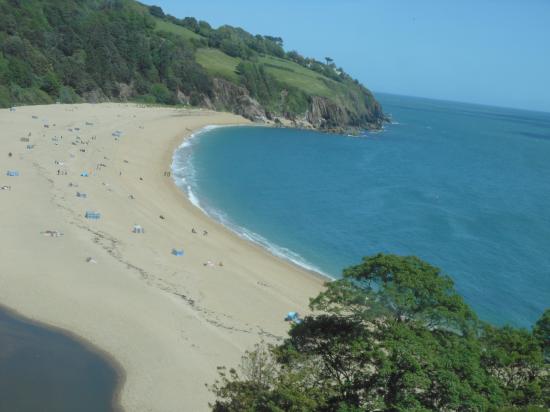 Blackpool Sands
Although the name may be slightly misleading – the beach is actually made up of shingle – the claim that it's 'South Devon's most picturesque beach' certainly holds water.  Located just 15 minutes outside of Dartmouth, surrounding woodland runs right down to the edge of the beach, creating a combination of countryside and coast that few other beaches in the county can boast. There are sand pits, a bathing raft and water sports equipment to hire so you can fully enjoy your day on the beautifully clear seas.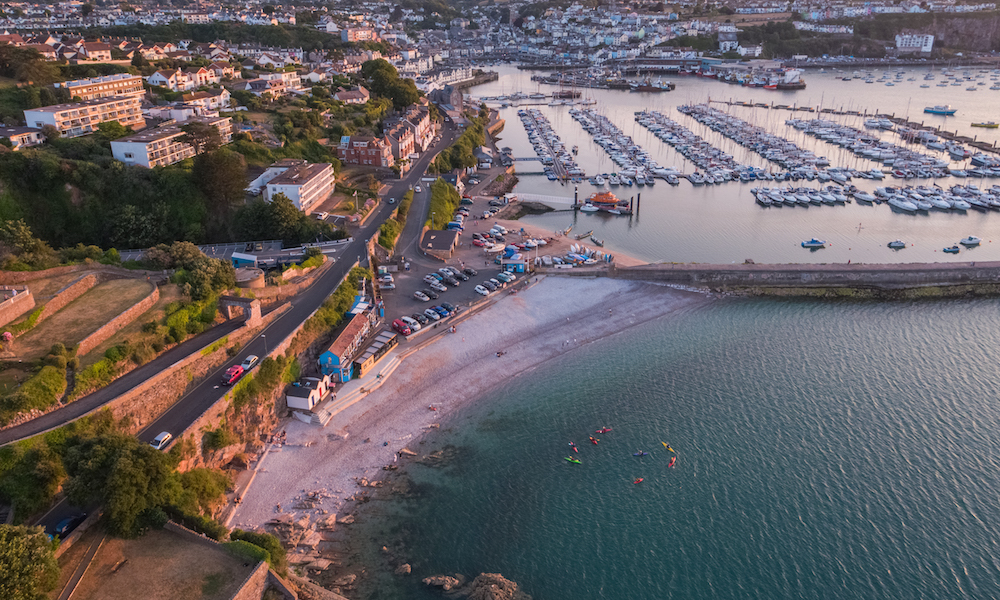 Breakwater Beach
Breakwater is a small shingle beach next to the picturesque Brixham Harbour and the long breakwater. With its calm warm waters it is a favourite for scuba diving. There are fish, seahorses, seagrass and interesting underwater landscapes to be seen.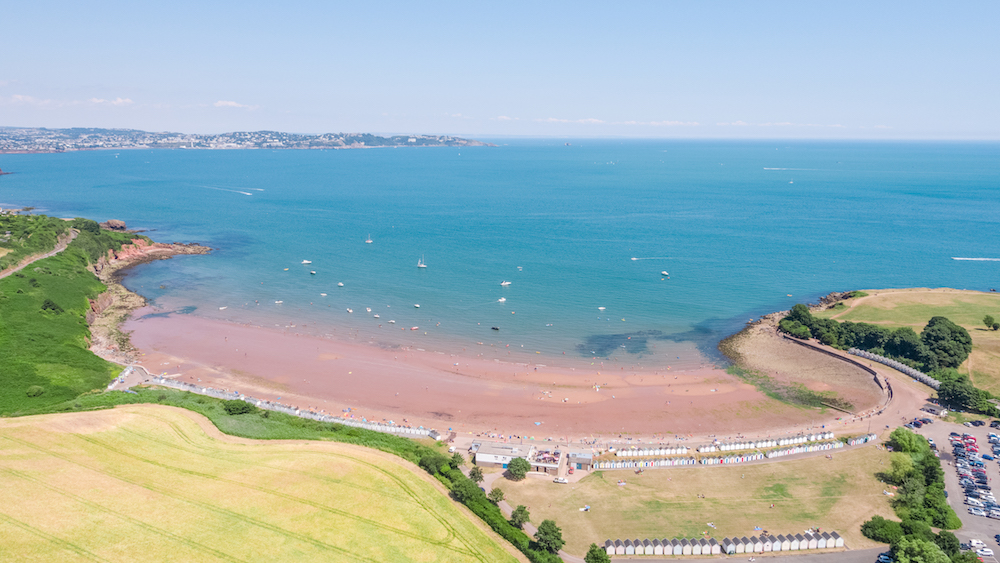 Broadsands Beach
Broadsands is a beautiful long sandy beach in an idyllic rural setting. It's gently sloping gradient makes it a popular choice for families with children or those wishing to distance themselves from amusement arcades. At low tide interesting rock pools are exposed at the southern end of the beach and there is a large area of parkland directly behind the beach, the perfect spot for a game of football or cricket.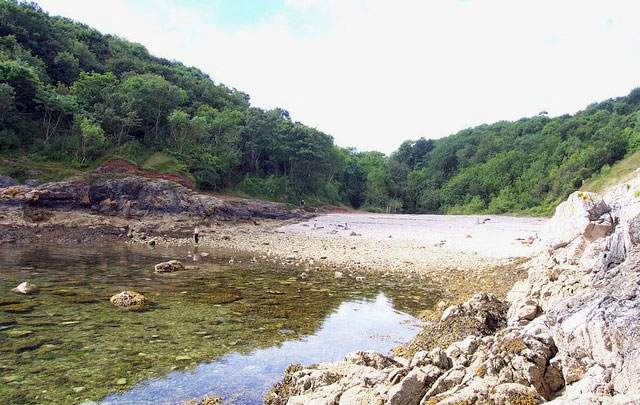 Churston Cove
The secluded little cove of Churston is an idyllic spot surrounded by cliffs and wooded hillsides. The beach is peaceful and incredibly beautiful and consists of shingle and sand. There is a steep path leading down to the beach which passes through mature woodland and opens out to reveal a small cove with spectacular scenery.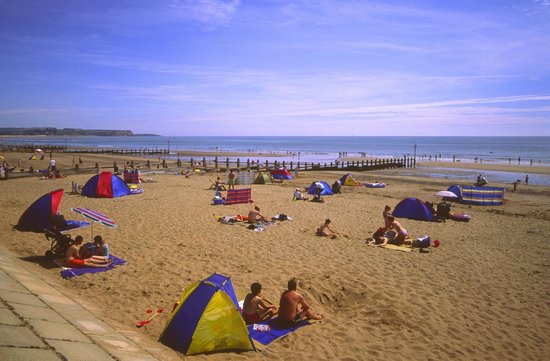 Dawlish Warren
Dawlish Warren Beach is one of South Devon's top family beaches. A long sandy beach, distinctive sand dunes, an internationally recognised nature reserve and clean safe bathing waters.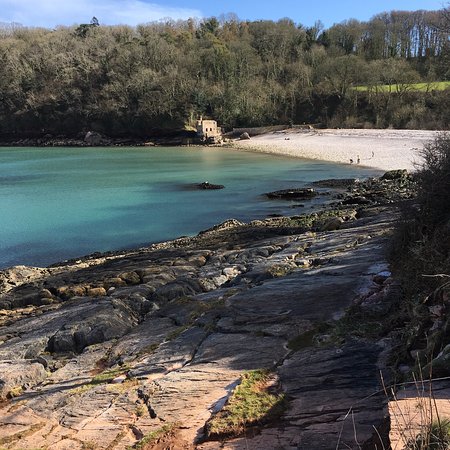 Elberry Cove
Elberry Cove is a pretty shingle beach with beautiful clear water which can only be reached by foot along the South West Coast Path from Broadsands or Brixham. This is a beautiful sheltered beach surrounded by wooded hillsides in an idyllic rural setting.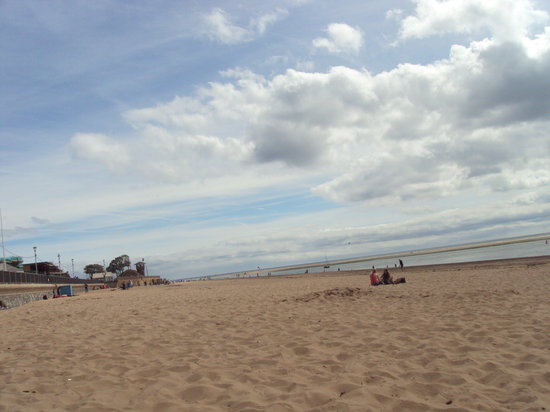 Exmouth Beach
Sitting at the mouth of the River Exe, Exmouth is a traditional seaside town just half an hour drive away from Exeter. Often described as the gateway to the Jurassic Coast, its beach is also classically British with a promenade situated just behind the golden sands.  As it's such a large beach it won't typically feels crowded and there is always ample room to do whatever family-oriented activity you like whether that's a game of beach cricket, flying a kite, or taking the dog for a walk.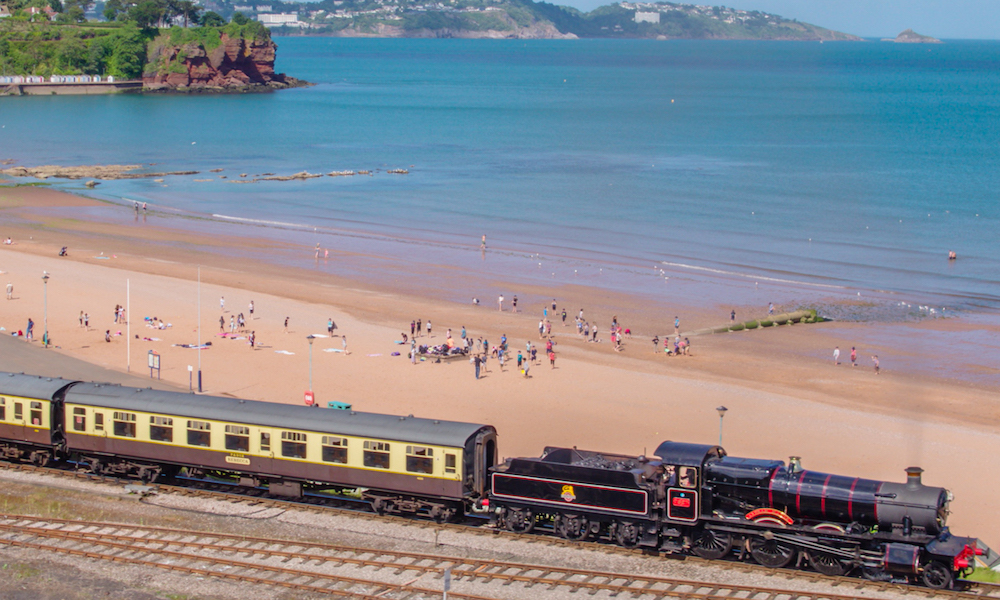 Goodrington Sands
This mainly sandy beach with clean, calm waters represents an unusual combination of attractive scenery, the Quaywest Water Park and Goodrington and Youngs Park, which is an area of established park land.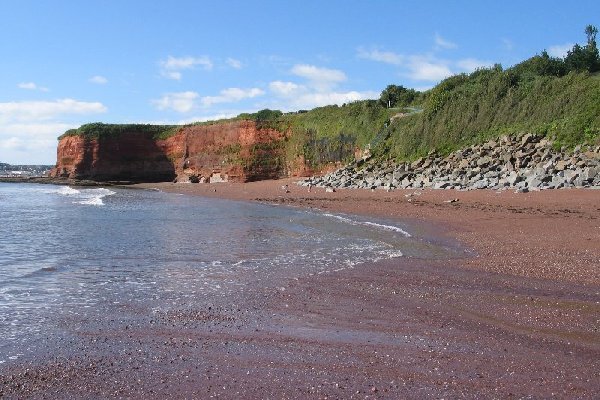 Hollicombe Beach
Set below high sandstone cliffs this sheltered beach is a real suntrap. At low tide interesting rock pools are exposed at both ends of this fine red sand beach. This delightful little bay provides the perfect setting to get away from the hustle and bustle of Torquay. The lovely Hollicombe Park is just above the beach.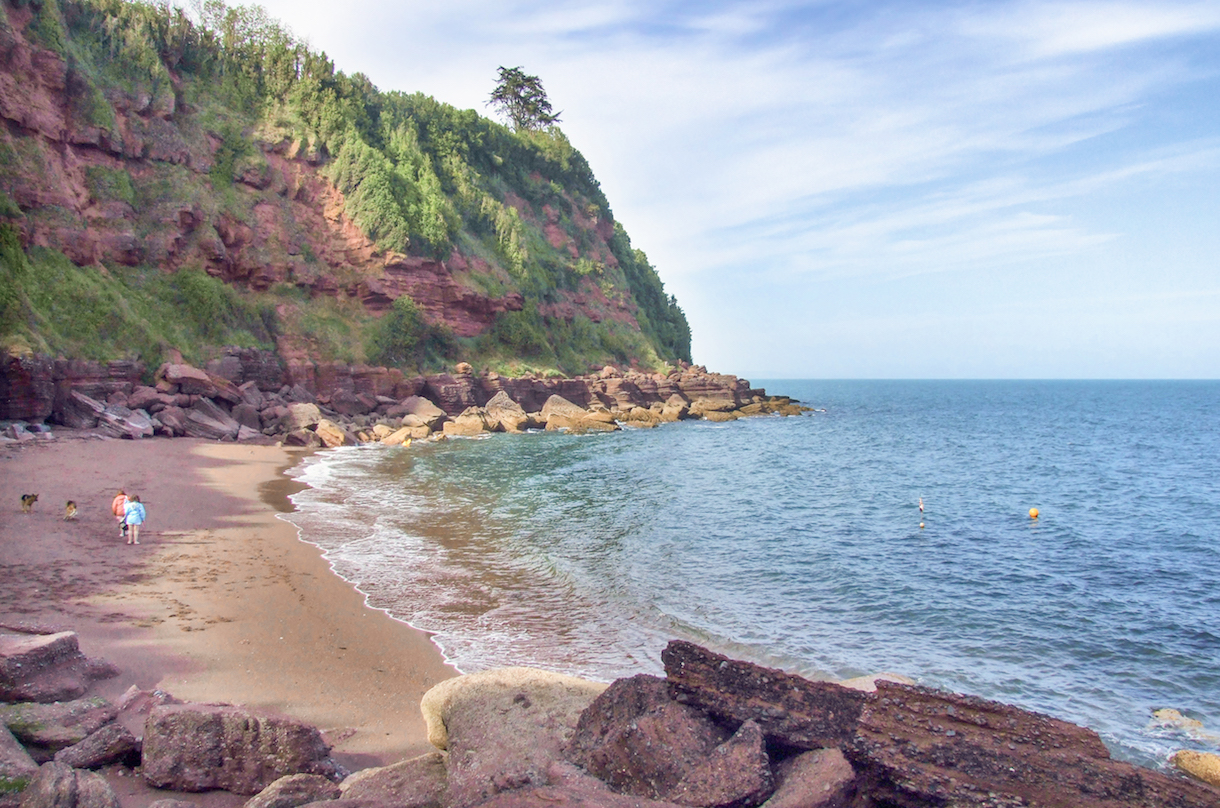 Maidencombe Beach
Maidencombe beach is a small sandy beach surrounded by red sandstone cliffs and at low tide interesting rock pools are exposed.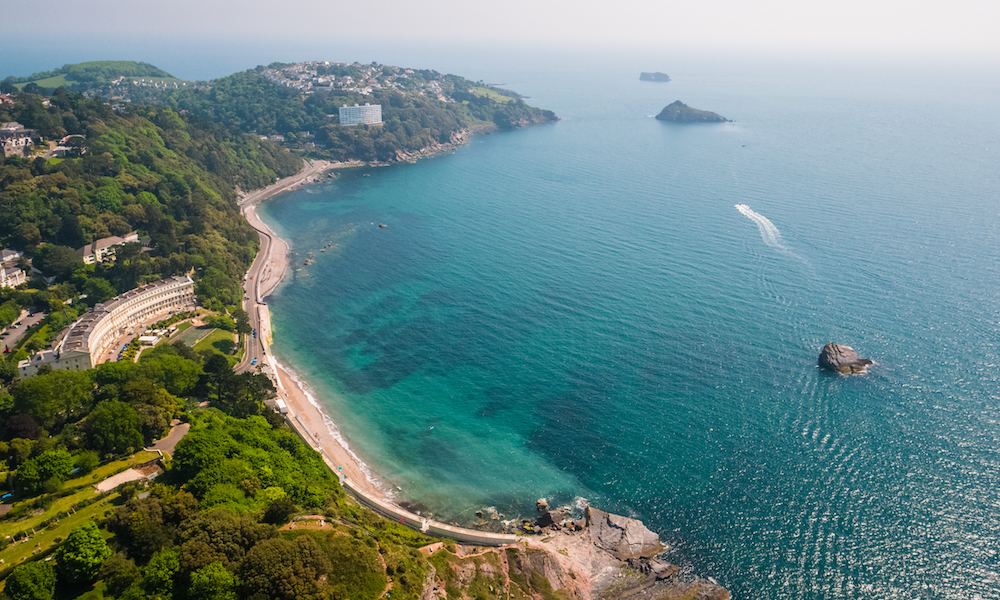 Meadfoot Beach
Meadfoot is a shingle beach nestled below an array of spectacular cliffs which provides a perfect setting for those who prefer a quieter environment in which to relax. From the beach you can see Thatcher Rock and Brixham on the opposite side of the Bay.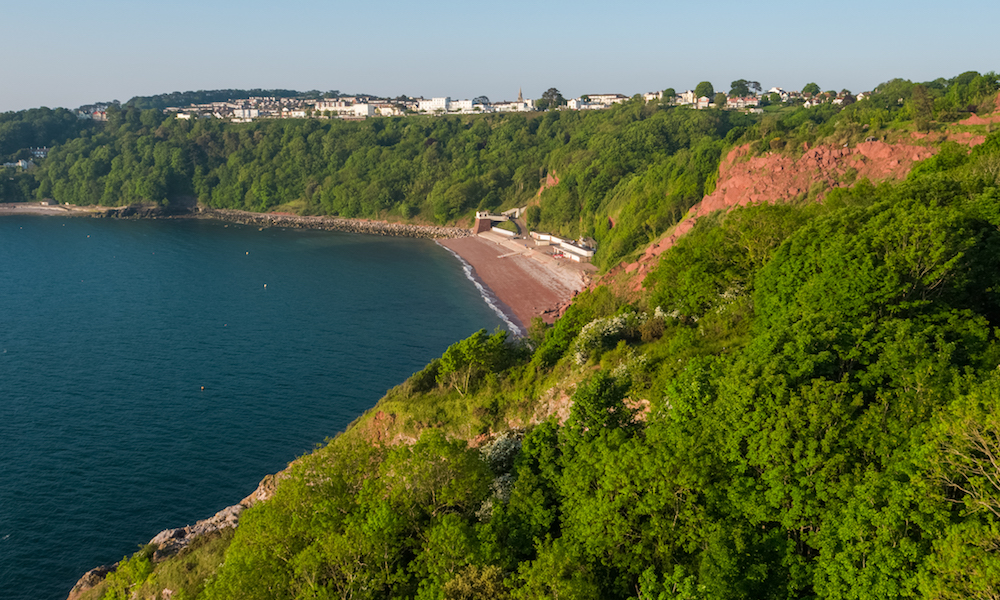 Oddicombe Beach
Nestled at the bottom of red sandstone cliffs Oddicombe beach is a sheltered haven for those looking for a relaxing day out.
This attractive stretch of shingle beach is perfect for simply hiring a deck chair, lying back and enjoying the spectacular views.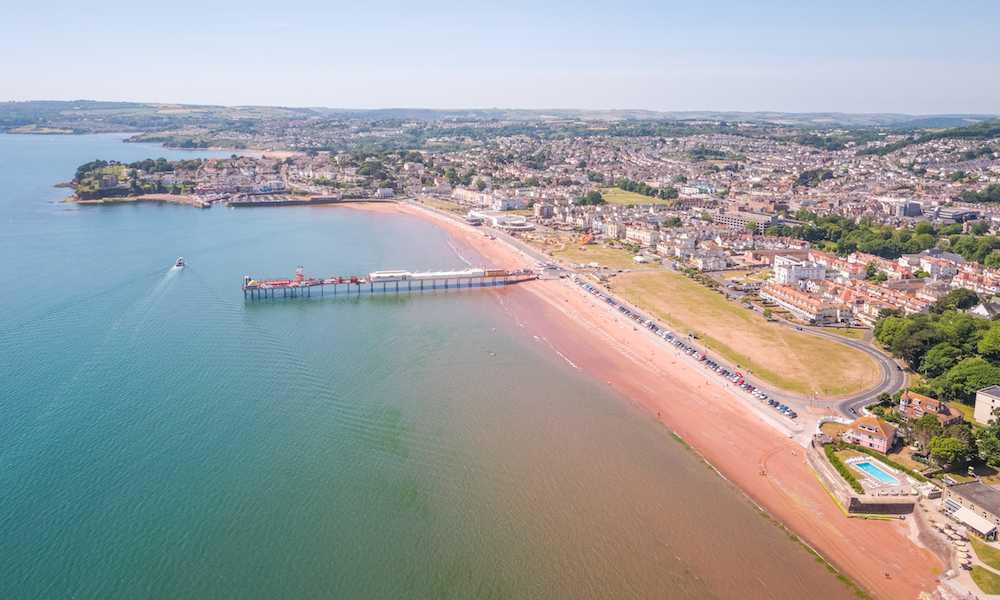 Paignton Sands
This long stretch of red sandy beach is situated either side of Paignton Pier. It is backed by an area of parkland which is used for various activities, the Geoplay Park and events during the summer season, and is capable of accommodating large numbers of people.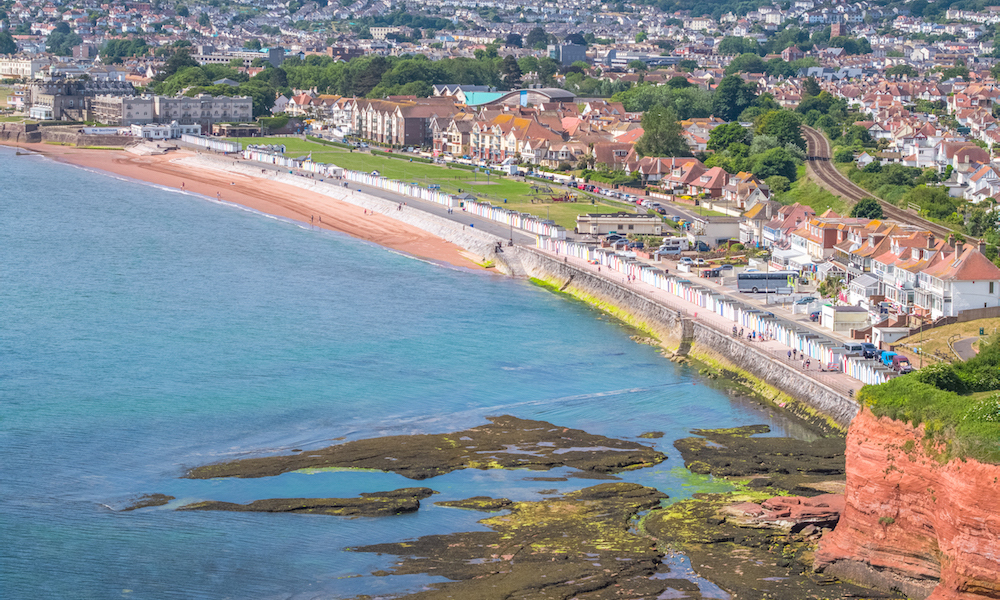 Preston Sands
Preston is red sand beach just a short walk from Paignton Sands and is very popular with families. Behind the beach is Preston Green which runs the length of the beach and is a safe area for the children to have fun or play a game of football or cricket.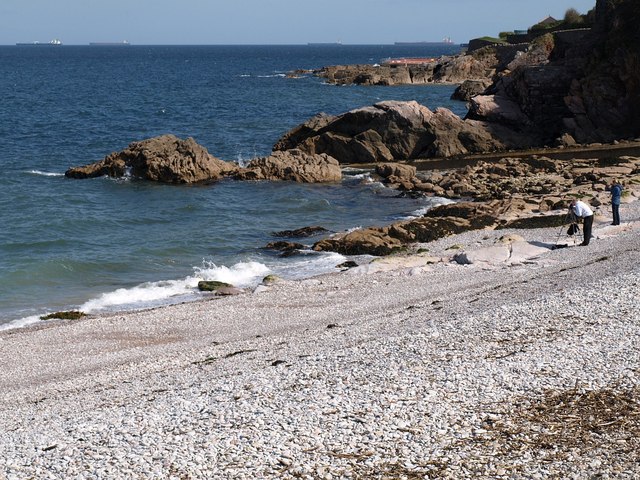 Shoalstone Beach
Shoalstone is a small shingle and rocky beach just along the coast from Brixham Harbour and breakwater. It is adjacent to Shoalstone Pool, which is Brixham's outdoor seawater swimming pool and is one of only a few left in the country. At low tide rock pools are exposed which are great to explore and nearby is Berry Head National Nature Reserve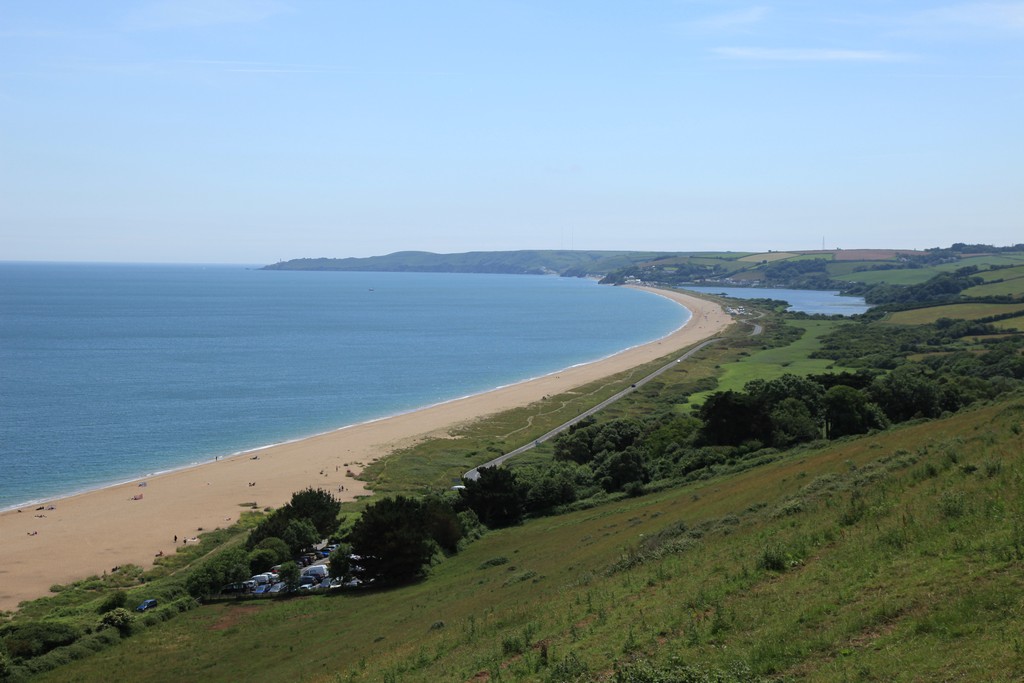 Slapton Sands
With Slapton Sands on one side and the Slapton Ley National Nature Reserve on the other, the A379 is likely one of the most unusual and picturesque roads you'll drive down in Devon.
Updated, Previous content was incorrect and deleted, apologies for the error..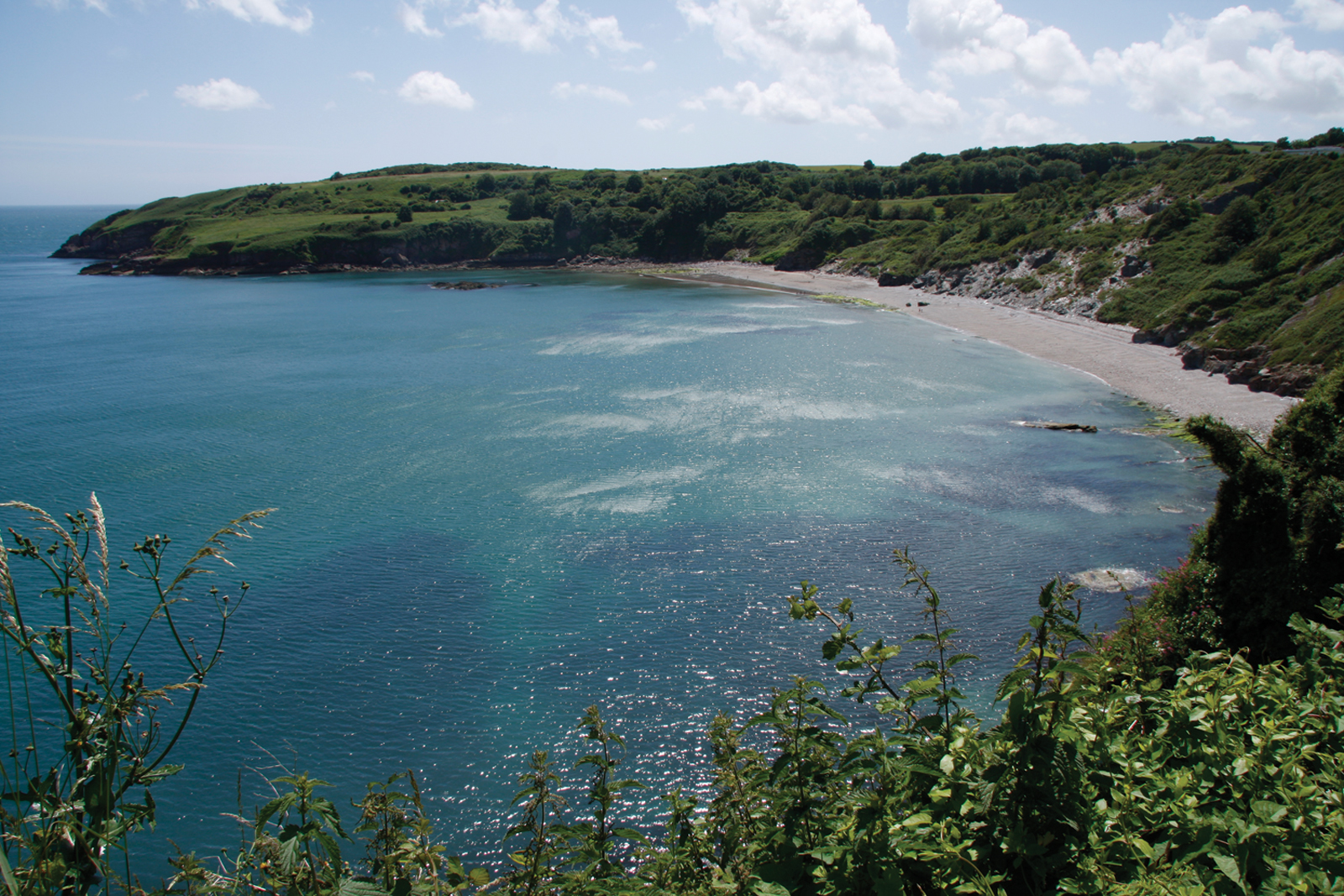 St Mary's Bay
St Mary's Bay is a delightful secluded beach with interesting rock formations and surrounding cliffs. It is Brixham's largest beach and is made up of sand and shingle. Access to St Mary's may be difficult but if you persevere you will find a delightful sandy stretch of beach at the bottom of the cliffs.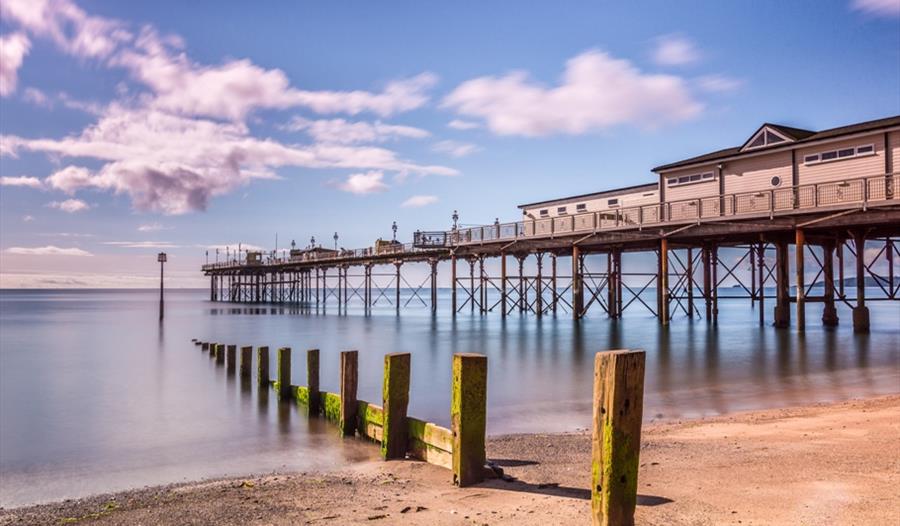 Teignmouth
A long, family friendly beach overlooked by the impressive Victorian pier, with large children's play area, skate park and crazy golf nearby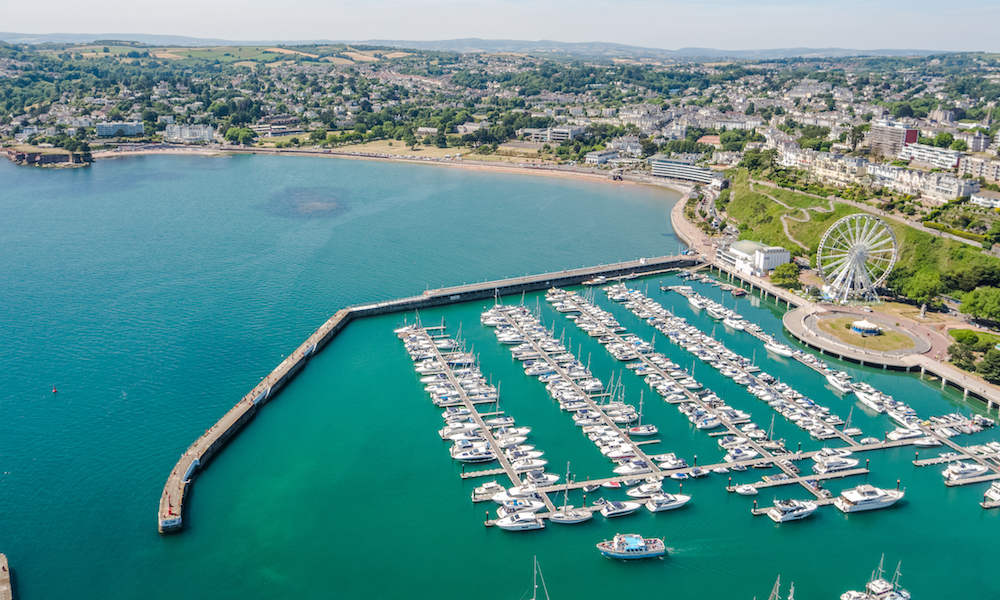 Torre Abbey Sands
Torre Abbey Sands is an excellent long sandy beach west of Torquay harbour and is located along the seafront in Torquay. This is the main beach for Torquay and is popular with holidaymakers from the surrounding hotels, day visitors and locals. The sandy beach is great for making sandcastles and rests between rock headlands which provide a safe sheltered area.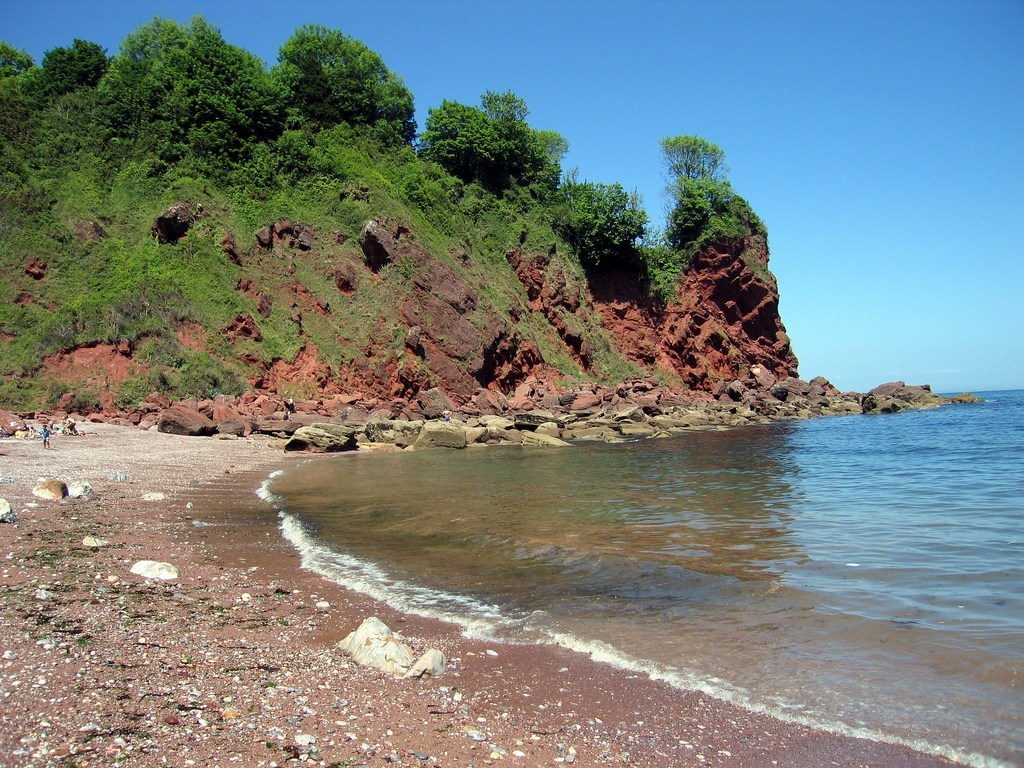 Watcombe Beach
The beautiful sandy beach of Watcombe is an idyllic spot surrounded by cliffs and wooded hillsides. There is a steep path that leads down to the beach which passes through mature woodland and opens out to reveal a small cove, with spectacular scenery.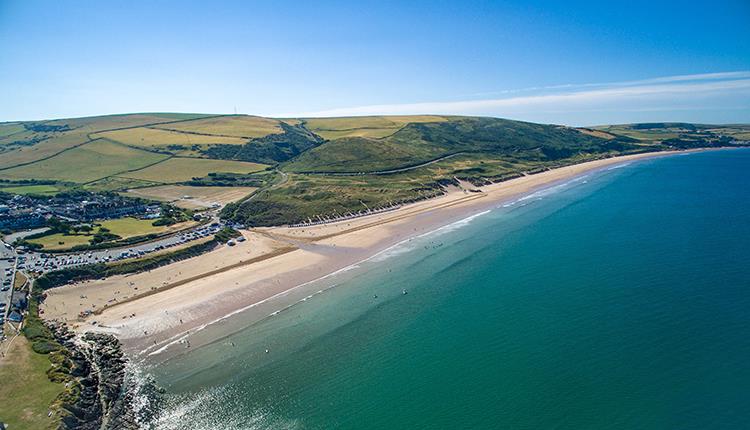 Woolacombe Beach
An epic 3-mile swathe of glistening sand that runs into the equally as famous Putsborough Beach, Woolacombe is a longtime favourite with families and young people.  Lined with colourfully painted beach huts, surf hire huts, a bouncy castle, and a huge boat-swing, Woolacombe has something to keep everyone happy.