Seriously Collins  – Phil Collins & Genesis Tribute Show.
Saturday 15th October 7.30pm. Babbacombe Theatre, Torquay
Against All Odds
A Phil Collins tribute show is coming to Torquay's Babbacombe Theatre on Saturday 15th October at 7.30pm, despite their frontman being given only a 30% chance of survival, after contracting sepsis due to pancreatitis. His story of how he became one of the countries most respected Phil Collins tribute artists is a miracle.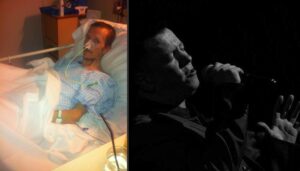 In 2012 Chris Hayward a singer from Wolverhampton now living in West Sussex was taken into hospital on his way up to the Midlands when he was suddenly taken ill near Oxford. Rushed into The John Radcliffe hospital, A&E doctors realised that he had severe sepsis, and he was immediately admitted to Intensive Care. He was placed into an induced coma for 2 weeks while doctors and nurses battled to stop the infection. His family were given the sad news that the chance of surviving the sepsis was 30%.
Through the amazing skill of the team there, his strength and determination Chris came out of his coma and spent the next 2 weeks continuing his ICU care. It was decided then that he could be moved to Brighton County Hospital for his much-needed operations. It was discovered that he had necrotising Pancreatitis due to gallstones and this had led to the sepsis.
He underwent 2 major operations both with a 50% chance of survival. Both were a success but left him with diabetes. The road to recovery was long. Chris spent the next 8 months in hospital battling infections and various complications.
Eventually and only weighing 8 stone he was allowed home and feared his life as a performer would be over. Over the next 18 months Chris made slow progress and bit-by-bit his strength returned and so had his voice.
He saw an ad from a band looking for a Phil Collins to front their band and as a lifelong fan of Phil and Genesis he replied to the ad. He was asked, by the band to record a few songs. He did and sent them back which earned him an audition with the show.
Chris remembers how nervous he was as he had played in bands as a drummer before but never as a frontman, but they loved the audition and offered him the position there and then.
He sold his share in a business and in 2016 he would embark on a two year, 140 date theatre tour of all the UK and Europe. Chris said he had never felt so at one with himself than when he is on stage. This really cemented his position as a leading tribute to his idol. He says performing some of the biggest songs ever written is a true honour.
When the tour ended his started his own 10-piece show, Seriously Collins which is now in its fifth year and selling out shows for Phil Collins and Genesis fans all over the UK.
Against all the odds – Seriously Collins are at the Babbacombe Theatre and tickets are already proving to popular, so book now for Saturday 15th October by calling the venues box office on 01803 328385 OR online: www.babbacombe-theatre.com