Welcome to Revolution Skate.
Bringing the Roller Skating experience to your Doorstep.
Fantastic fun everyone!
Indoor and outdoor skating events and weekly Roller Disco's.

Since starting in June 2014 Revolution Skate has gone from strength to strength and is fast becoming the go to place for roller skaters in South Devon.
Revolution Skate is a Family run business which strives to bring you great entertainment with a full DJ setup, hi tech lighting, superb music and great entertainment, all on Skates!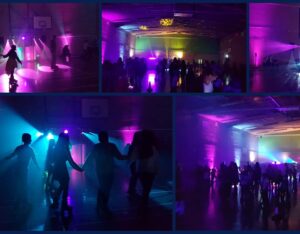 Indoor Roller Discos
In the winter months we run our indoor Roller Disco's.  These are currently run at Parkfield in Paignton, but please keep an eye on our website/social media as we are always looking for new venues.
Our roller disco's are open to all ages, young and old alike. Ideal for beginners and experienced skaters, families and friends.  If you have your own Skates that is great – if not Skate hire is available along with a selection of safety gear. During our sessions, we have plenty of time to skate, plus games & races for everyone to enjoy.
We have a team of experienced Marshals on hand who are always happy to help any new skaters and also to give you some tips and advice.  We have an awesome DJ playing a range of tunes and fantastic lights to really give that disco feel.
We welcome families, individuals & Birthday parties to our regular roller disco's and are also available for private hire.

The VeloSkate
The Veloskate runs from April through till the end of September.  It is one of the RevSkate Crews favourite venues with so much space to skate, making it great for beginners up to seasoned pro's. A large flat area to practice your skills and a 1.5km track to skate for fun or to see how many laps you can do or how fast you can get round.
With the largest outdoor track in the Southwest, smooth Tarmac and no cars or pedestrians. Where better for you and your children to skate/Scooter safely with qualified instructors on hand to help advance your skills. The 1.5km track is great to skate/Scooter for fun or you may want to use your time for some fitness training. This really is an event for all ages and all abilities with plenty of space for everyone. With skate hire, good music and a fabulously chilled vibe, it is not to be missed.

Own skates/Scooters are recommended and helmets must be worn. We do provide a range of Skates, Helmets and Protective Gear on a first come first served basis.  You are also welcome to bring and use other wheeled equipment such as skateboards, longboards, hoverboards etc – just no two wheeled bikes at these sessions.
Please contact us for more information and details, dates & times of our events.
Telephone: 07989 418 712