Paignton Harbour nestles on the western shores of Torbay situated midway between Torquay and Brixham harbours.  Its' understated beauty and authentic 'fishing haven' feel are often overlooked by visitors to the area and even some locals.
The harbour was established in the 18th Century and the local Council has managed the harbour since 1935.  Paignton was a thriving fishing harbour for many years and some of the old traditions of seamanship are kept alive and passed on through generations of Paigntonians.  Today the harbour remains a hive of activity, especially during the summer months and a vast range of different users enjoy the benefits of this unassuming maritime gem.
Paignton Harbour is also home to Paignton Amateur Rowing Club which is the only club in England to offer five types of rowing: Skiff, Gig, FISA coastal, Coastal and Indoor rowing
With many fantastic places to eat, drink and socialise and now a lovely craft market running through the Summer months Paignton Harbour really is the place to be.

Anchors Rest Bar & Bistro
44d South Quay, Paignton Harbour, TQ4 6DT
Phone – 01803 524865
Email – info@anchorsrest.co.uk
Anchor's Rest is a family run, high quality harbourside bistro offering excellent value on a wide range of exciting dishes. We believe in sourcing the best, freshest, local, finest foods to ensure quality dining for all of our lovely customers. Whether it's a lite bite or something more substantial come and enjoy a delicious meal with us. Enjoy the stunning Paignton harbour whilst dining on fresh local produce. The Anchors Rest enjoys views from Paignton Harbour across Torbay to Torquay and beyond. Open Wednesday – Sundays 8am-Late
TJ's Restaurant
44 Cliff Road, Paignton, TQ4 6DL
Phone – 01803 527389
Email – info@tjsrestaurant.co.uk
TJ's boasts an outside terrace and dining room with stunning views across the bay and wonderful, freshly prepared food.  Lovingly prepared to order, our daily fish is landed at Brixham, our meat is from local quality butcher 'Gibbins' and our vegetables are from quality local greengrocers 'Chalices'. We always use suppliers of local produce and thereby ensure the quality and flavours and maintain the standards we feel proud to serve you, whilst supporting our local economy. Customers/friends can sit outside and encompass the most wonderful views of picturesque Paignton Harbour and along the stunning coastline to Torquay, Thatcher Rock and beyond, whilst enjoying our plentiful gastronomic delights!
Harbour Light
North Quay, TQ4 6DU
Phone – 01803 229000
Email – harbourlight@staustellbrewery.co.uk
The Harbour Light is perfectly perched along the waterfront in Paignton. A tasty menu of traditional pub classics can be savoured either by dining al fresco or beside the open fireplace during the colder months. Our new spring and summer menu is here, featuring a choice of reimagined pub classics, fresh seafood, and a selection of mouth-watering sweet options – making the most of the freshest ingredients. Kick back and enjoy a bite to eat while gazing at the maritime activity across the water. We have an extensive range of wine featuring Sharpham – a wine made from grapes picked, crushed and fermented here in Devon.
Mollys
Roundham Road, Paignton, TQ4 6DT
Phone – 07470 510979
Mollys is a licensed food & drinks kiosk situated on an elevated position with stunning views overlooking Paignton Harbour. We are open daily from 8am until 9pm through the summer season. We have live music at weekends & one or two evenings midweek. Check our Facebook page for updates. We serve hot & cold food including our famous crab sandwiches during the day & Tapas style food from 5pm. Hot & cold drinks available all day & alcohol & cocktails served from 12pm until 9pm daily.
Crab & Hammer
South Quay, Paignton, TQ4 6DU
Phone – 01803 528170
Celebrating Fantastic Devon Crab.  At Crab & Hammer we want you to take it easy and feast on our fantastic Devon crab whilst enjoying a pint or chilled glass of wine, taking in the view over Paignton Harbour to Torquay.  Whether you chose to take up a hammer and commence battle with a whole crab or you tuck into one of our handpicked crab rolls we aim to blow you away with the joys of Devon crab.
Just as Delicious alternative dishes are also available.  Fantastic wine and drinks menu to compliment your meal. Well behaved dogs are welcome to join us at the restaurant.

Paignton Rowing Club Sports Bar
The South Quay, Paignton. TQ4 6DT
Contact Trish on 07795 087089
Open to non members, offering a large selection of Beers, Wines and Spirits
With Panoramic Sea Views, Sky Sports in 2 75" tv screens, a full size pool table and darts boards. No membership required.
Paignton Harbour Markets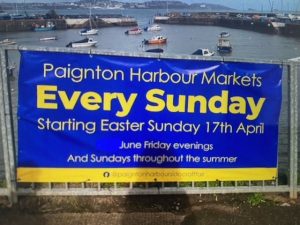 For more info: Fb @Paigntonharboursidecraftfair
Sunday Markets throughout the summer season: 10am-3pm.
Friday Evening Markets from 17th June: 5pm-8.30pm/9pm.
Weather Permitting
Lovely range of items from Paintings, Handmade Dog treats, Wax Melts, Jewellery, Stone and Driftwood crafts to locally made Gin. Something for everyone and things you cannot buy on the high street.