A family-friendly exhibition celebrating everyone's favourite bear.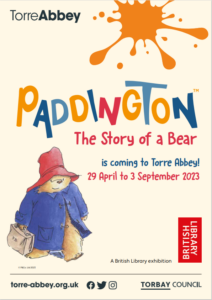 PaddingtonTM is coming to Torbay, as the touring exhibition from the British Library, 'Paddington: The Story of a Bear' visits Torre Abbey from 29 April to 4 September 2023.  Follow his trail of marmalade to find out more about his adventures in this educational and interactive exhibition.
Paddington's kind and polite nature have made him one of the world's most loved bears since his first appearance on the pages of A Bear Called Paddington written by Michael Bond. 65 years on, his stories still delight people of all ages around the world, he even had tea with Queen Elizabeth II to celebrate the Platinum Jubilee.
Now fans, both big and small, can discover more about Paddington's adventures here at Torre Abbey. The exhibition has activities for all ages to practice their hard stares, take their own self 'pawtrait' and follow the trail of marmalade left by Paddington, as well as a special printed guide for families. Featuring over 50?books, documents, film clips and original artworks, these unique displays explore Michael Bond's creation of Paddington, from his arrival in the UK from Peru, to finding a new home, and his exciting adventures in London and beyond.
With a summer of family activities and events still to be announced, there will be plenty to keep little sticky paws busy.
So, don your hat and duffle coat, grab your suitcase and join us for a marmalade sandwich-fuelled trip down memory lane. And most importantly: "Please look after this bear. Thank You!"
Details
About Paddington
For 65 years, British-born writer Michael Bond has delighted readers all over the world with his stories about Paddington, the bear from Peru, famous for his love of marmalade. The kindness and humour in the stories appeal to children and adults alike, ensuring Paddington's enduring popularity from one generation to the next.  HarperCollins Children's books have published Paddington's adventures continuously since 13th October 1958 when, as William Collins, they first introduced A Bear Called Paddington to the world.
Since then, Paddington's adventures have been adapted several times for television and at the end of 2014 Paddington made his debut onto the big screen, a further film Paddington 2 followed in 2017 with a third in the works. The movies were produced by Studiocanal, part of the international content and media group Vivendi. In 2020, a brand-new Paddington TV series designed for a pre-school audience, The Adventures of Paddington launched on Nickelodeon, introducing him to a whole new set of fans.