NOEL GALLAGHER'S HIGH FLYING BIRDS
PLUS VERY SPECIAL GUESTS;
THE VACCINES
THE CORAL
GAZ COOMBES
Brighton Beach
Sunday 30th July 2023 (14.00 – 22.30hrs)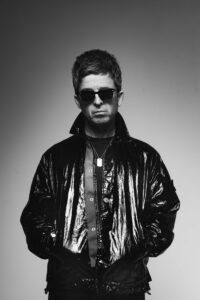 Closing the 2023 On The Beach summer series in style, we are thrilled to announce that British rock royalty Noel Gallagher's High Flying Birds will be headlining the iconic Brighton Beach on Sunday 30th July.
A trailblazing staple of British rock – starting all the way back when Oasis first made an irreversible dent in global music back in the early '90s – Noel Gallagher has spent his three-plus decade career cementing himself as a historic singer-songwriter, continuously building on an inimitable catalogue of anthems, chart-toppers and ballads. Along with his High Flying Birds, Noel's universally reaching lyrics have found him performing in the world's biggest venues, headlining shows in over 30 countries.
Noel Gallagher's High Flying Birds will be joined on the Brighton Beach bill by three more acts ubiquitous with great British rock songwriting; The Vaccines, who have gone from strength to strength since their smash debut 'If You Wanna' first hit our radios; The Coral, whose timely classics 'Dreaming of You' and 'In The Morning' still stand tall amongst the band's contemporary work; and Gaz Coombes, whose solo career has seen him expand his sonic palette into broader and bolder territories beyond his work as frontman of Supergrass.
This is set to be a suitably epic night to close off two weekends of world-class music at one of Britain's most historic coastal settings.
This show is a part of the On The Beach Series  www.onthebeachbrighton.com